The Hurt Goes On!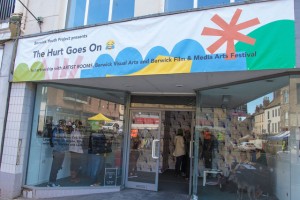 This summer the beehive welcomed an opportunity to work with Berwick Visual Arts, Berwick Film and Media Festival, Tate Modern and Film Bee on what turn out to be a wonderful and extremely thought provoking exhibition.
A group of young people worked together and with artists on a weekly basis over a 4 month period  to develop their ideas, learning about different digital imagery and how the exhibition space could be utilised to not only welcome potential audience members but to show the work in the best possible way.
Throughout the journey from idea to exhibit the group embarked on some adventures, from heading out locally to shoot pictures and film to watching 'found footage' they also visited The Tate Modern in London. This opportunity was definitely one that the group won't forget. During our 36 hour stay in London the group met with the education department within the Tate to find out more about the Gallery, its impact on and for artists and spent hours digesting the wonders within each exhibition.
This enabled the group to really understand their ideas for their own exhibition and over the next months the group took their theme of 'Social Media' and turn the whole concept back to an analogue process, Snap chat, Instagram, Messenger and YouTube were remastered back to a basic form and the results were brilliant.
https://www.berwick-advertiser.co.uk/whats-on/theatre-and-comedy/festival-celebrates-14th-year-of-success-1-4815400  you can read more about the exhibition here.
Social Share