Supported Accommodation is for young people aged 16-25 who want support to help them move on into their own place. We have six furnished bedrooms where young people can try living on their own but with the security of having a housing team who can help them on their road to independence.
If you are thinking of leaving home, worried about how you will manage, don't feel safe where you live, or need to move to be closer to work. Whatever the reason, we can provide a safe place for you to live, while you gain the skills you will need to confidently move on into your own home.
It's not an easy option, there are rules and we expect our residents to actively engage in the support on offer. In return, we will do our very best to give you the support you need to get your own place and more importantly to be able to keep it.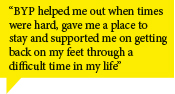 Support could include:
• Managing your money
• Equality & Diversity
• Healthy Living
• Cooking
• Benefits
• Health & Safety
• Managing a home

• Housing options
• Team building events
• Ongoing one to one support
If you would like to apply for Supported Accommodation, please complete an APPLICATION FORM